Sea-ing Europe Together With Holland America
By Nancy Schretter, Editor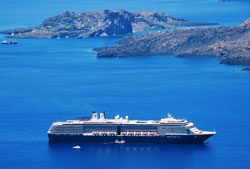 Europe is a wonderful destination for multigenerational family vacations. European family vacations provide a tantalizing combination of learning, adventure and cultural experiences suited to the interests of every family member. Travel logistics and cost considerations for such a trip can be particularly daunting for large family groups, however. That is why a growing number of families are putting Europe on cruise control. Cruises are one of the easiest and most cost-effective ways for multigenerational families to enjoy travel in Europe. It's like seeing Europe from your own floating family-friendly resort hotel.
Selecting the right cruise line for a multigenerational family vacation is critical. Care must be taken to find a ship that works just as well for grandparents as it does for the younger members of the family. Holland America Line is one of the top choices for European family travel for exactly this reason. With their intimate feel, gracious service, and activities to suit every member of the family, Holland America's ships have the unique ability to appeal to all generations.
Launched in 2004, Holland America's $225 million Signature of Excellence program has added amenities and improvements to every area of their ships. Five-star enhancements have been made throughout the fleet, from accommodations and dining to the addition of a Culinary Arts Center and dramatically expanded children's programs. An extensive variety of activities is key to the success of any family vacation. It's no surprise then, that Holland America Line now carries more than 25,000 children and their families aboard their ships every year.
"The chief reason that so many families prefer to cruise with us is because Holland America Line offers a variety of activities that appeal to every age group -- grandparents, parents and kids," said John Primeau, Holland America Line spokesman. "With our supervised Club HAL for ages 3-12 and The Loft for kids 13-17 (plus The Oasis on most ships, designed for teens who want to enjoy their own private sundeck), everyone in the family can do his or her thing during the day and then, at dinner, share their experiences together as a family." Primeau adds, "The way we are structured to handle families is something that would be hard to duplicate on a land-based vacation."
That is particularly true in Europe, where family-friendly accommodations can be difficult to find and vacations often involve a great deal of travel. Cruising eliminates the hassles involved with packing and moving from place to place, allowing everyone to relax and enjoy the trip. In addition, Holland America's personalized service, varied activities and distinctive dining options cater to the interests of all ages of vacationers. After cruising with Holland America in the Mediterranean recently, it's hard to imagine seeing Europe any other way.
The Magical Mediterranean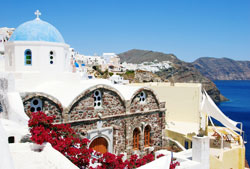 The idyllic Mediterranean is the perfect place to introduce children to Europe. There are captivating cities and mazes of canals to explore, ruins of ancient civilizations to discover, and gorgeous sun-drenched beaches to enjoy. Europe's Mediterranean is a patchwork quilt of histories, art and cultures. It's no wonder, then, that cruise lines are seeing more kids on their summer Mediterranean itineraries.
There were 175 children aboard our Holland America cruise, with over 250 expected on some sailings later in the summer. Many parents and grandparents said they chose this cruise as a way to give their children a taste of Europe without all the hassles and expense of a land-based trip. "We won't see as much of the sights as we adults might like," said one grandmother, "but it's less stressful and our whole family is having fun together."
European cruises provide families with a sampler of the region's highlights. Holland America offers a variety of itineraries to satisfy all ages and interests. Our Mediterranean cruise itinerary started in Venice with stops in Dubrovnick, Croatia; Corfu, Argostoli and Santorini in the Greek Islands; Sicily, Naples, Civitavecchia (Rome) and Livorno (Florence) in Italy; and a departure point in Barcelona, Spain. The 12-day trip provided an unforgettable mosaic of sights, sounds and flavors.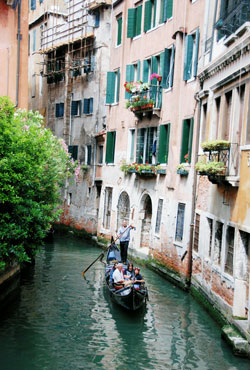 A Mediterranean cruise is the ultimate field trip. History comes alive on these vacations and kids' imaginations soar. Families can explore the archeological wonders of Barcelona and the remains of ancient civilizations in Rome and Pompeii. Art lovers marvel at the birthplace of the Renaissance in Florence, while Greece's captivating towns and sun-soaked beaches delight children of all ages. Magical Venice, with its serenading gondoliers and narrow canals, reminds children of a favorite theme park attraction. Stop for gelato and freshly baked pizza, shop for ornate Carnevale masks, and wander across the city's piazzas and quaint bridges.
There's so much to see and do here, but it's important to remember to pace yourselves and avoid trying to cram everything all into one trip. The great thing about Europe is that it will all still be there on your next visit. Don't turn your cruise into a grueling sightseeing marathon – it's important to relax and have fun. Plan your shore excursions with the ages of your children in mind, comfortably see what you want to see, and then head back to the comfort of your ship. On Holland America, the friendly staff will be waiting to greet you with a cool towel and a warm welcome.
A Floating Home At Sea
Cruise veterans always look forward to being catered to on their vacations at sea. Holland America, however, takes this one step further with a level of personalized service that clearly exceeded the expectations of those on board our ship. Like the famous Cheers bar of television sitcom fame, our ship, the ms Zuiderdam, became the homey place "where everybody knows your name." Not just your name, but your favorite drink … and the way you like your pillows propped up at night … and the shore excursion you were on two days ago … and how to make special napkin animals to entertain your daughter at dinner. This is five-star service at its best and is just one of the many reasons Holland America works so well for families and multigenerational events.
To this day, I still remember the smiling face of Oro Jr. Jasareno, one of the many fantastic crew onboard the Zuiderdam. Although Oro is from the Philippines, his first name is perfect in Spanish. "Oro" means "gold" in the Spanish language, and staff members like Oro certainly are worth their weight in that precious commodity. Oro always went out of his way to greet our group and worked hard to make us feel special and right at home. No preference was ever impossible – Oro always made it happen with a smile. There were so many crew members like Oro on the Zuiderdam and they always made us feel like we were vacationing at home with extended family aboard the ship.
The Zuiderdam has lots of intimate nooks and special places for people to claim and call their own – just like at home. For grandparents and adults seeking a quiet spot, the destination of choice is the Explorations Café. Powered by The New York Times, the Explorations Café sits high atop the ship and provides a comfortable living room style environment where cruisers can get a cup of coffee, browse through a library of over 2,000 books, and surf the Internet. Panoramic windows allow guests to relax in a comfy chair and enjoy the spectacular views.
Spa lovers will find their own oasis in the luxurious Greenhouse Spa & Salon. Holland America's spa offers a wide variety of massage and body treatments, therapies, facials, salon services, and other delights – all provided by well-trained staff. Staying in shape is also no problem aboard the Zuiderdam. The Greenhouse fitness center allows guests to enjoy sea views while working out on state-of-the-art cardio and weight machines. Pilates, yoga, cycling, and other fitness classes are also available.
Food buffs will be right at home in the kitchen at the ship's Culinary Arts Center. In partnership with Food & Wine magazine, Holland America's ships offer extensive culinary programs in their state-of-the-art demonstration kitchens. The Culinary Arts Center also offers programs for kids and teens as well.
The younger set will find their own home-away-from-home in Holland America's expanded Club HAL program for kids ages 3-12. Children are divided into two age groups: 3-7 and 8-12. The 3-7 year olds enjoy their own fun area where they take part in kids Olympics, arts & crafts, pajama parties, storytelling, and other events. Older kids have their own place featuring arcade games, air hockey, foosball, Karaoke, Sony Playstations, and activities like swim parties, scavenger hunts, dodgeball, golf putting, and other on deck entertainment. Club HAL is also open during port days, which can be a real advantage on busy Mediterranean itineraries.
Holland America understands teens need their own space in order to feel at home, so they've created private hideaways onboard all their ships. Teens have a special place called The Loft, where they can dance, take part in karaoke, meet other teens, and try out intelligent board games provided by a partnership with Cranium. Other teen activities include volleyball, pool parties, prom nights, teen movies, ping-pong tournaments, and other special events. Many other ships also feature a secluded teens-only sun deck called The Oasis, where teens can hang out, relax together and cool off in their own waterfall and cave.
Parents who want to enjoy the night out will be happy to know that babysitting services are available from 10 p.m. until midnight during Club HAL After Hours for kids ages 3 and older. The charge is $5 per hour per child. At other times and for kids ages 6 months to 3 years of age, babysitting may be arranged through the Front Office on a limited basis. The cost is $8 per hour for the first child and $5 per hour for each additional child. If you are interested, make your arrangements as far in advance as possible as babysitters are available on a first-come, first-served basis.
In all honesty, however, sometimes it's just hard to tear yourselves away from your stateroom. The Zuiderdam has 316 staterooms that will comfortably fit a family of four and even more that will accommodate groups of three. Our deluxe verandah cabin had a large balcony off the back of the ship, which provided a perfect spot to relax and enjoy the views. The luxurious stateroom had floor-to-ceiling windows, flat-screen television, a bathtub for soaking after a long day ashore, plenty of storage space and a comfortable daybed. Families who need more space might book two cabins or invest in a roomy suite, providing access to the ship's Neptune Lounge. Here, families can enjoy drinks, snacks and hors d'oeuvres and concierges are available to help with dining reservations, confirm shore excursions and spa appointments, and assist with other needs.
Dining is always an important time for families to come together and Holland America is known for its excellent food. Menu options are extensive and the dining room wait staff caters to families and children, quickly learning their preferences and making them feel right at home. Four seating times are offered in the main dining room and As You Wish dining allows for open seating from 5:15 p.m. until 9 p.m. daily. For special evenings, families may enjoy a night at the Pinnacle Grill, Holland America's Northwest-themed gourmet restaurant. This premium-priced dining venue requires reservations and offers steaks, seafood, and an extensive wine list. This is right place to celebrate birthdays, anniversaries, or simply the joy of being together as a family. After all, that's exactly what making vacation memories is all about.
Family Reunions Made Easy
Cruise lines are uniquely positioned to handle large family groups because of the wide variety of activities and amenities offered, both at sea and onshore. Ships offer a tremendous value, accommodations for every budget, and a wide variety of dining options. Holland America makes family gatherings easy with their special Family Reunion Program for families booking a minimum of eight or more staterooms. The package includes special group pricing; a fountain soda card for every member of the family group; one family photo per stateroom; lunch for the entire family in the Pinnacle Grill Restaurant; and a special Head-of-the-Family Reward for one stateroom in the 8+ cabin group, which includes all of the previously mentioned amenities plus a complimentary upgrade from an outside stateroom to a verandah stateroom.
The Mediterranean itinerary is a good choice for family reunions and we saw many extended families having a wonderful time. Mark Pells, the Zuiderdam's Hotel Manager, held his own family reunion aboard the ship last summer. His group included 31 family members ranging from 87 to 8 years of age. Here are a few of his tips for planning a great family reunion at sea:
Prior to sailing, send out information about the places you will be visiting to get family members excited about what they are going to see. This will also allow them to be ready to make informed decisions when choices need to be made.
Book shore excursions together in advance, but leave options for free time.
Talk to the Cruise Director to get ideas for fun things you may want to do together as a group.
Create a separate daily program or newsletter, if possible, outlining family events taking place outside the ship's normal daily program. Make sure to clarify meeting places and times before doing a group activity ashore and let family members know how long the excursion will take, whether they should bring money for food or eat earlier onboard the ship, whether shopping is available, and other details.
Be aware of the ship's activities, such as scenic cruising or a performance that you don't want to miss, and make sure to incorporate these into your family's schedule. If you talk to the ship's Events Manager or Beverage Manager, they may be able to arrange refreshments to coincide with your group's activities.
Meet in different places onboard the ship for drinks, high tea, or a swim. This is a fun way to catch up on what everyone did the night before and plans for the next day.
Designate one room as a hospitality suite and stock it with water, necessities, and information.
Try different venues for dining together onboard the ship and inform the ship's staff in advance so that they can make special arrangements.
If you have young or physically challenged family members, see if you can hire off duty ship's crew members if available to act as escorts to push wheelchairs or watch the kids. This allows moms, dads and spouses to have some freedom and enjoy their vacation to the fullest. This may not always be possible, but check with the Front Desk to make arrangements.
Most importantly, tell everyone to be flexible and to anticipate changes, challenges and delays. That way, they won't be disappointed if something different occurs. It's not only about the destination – the journey there is just as important.
Our Mediterranean cruise has ended, but the memories still linger on. Like a slide show, vivid snapshots and spectacular streaming video clips replay over and over in my mind. It's easy to fall in love with Europe, but my experience on Holland America has made Mediterranean cruising addictive. Like a child's warm embrace, this cruise has left me yearning for more.
If You Go:
For more information on Holland America Line, visit the cruise line's website at www.hollandamerica.com.


© Copyright 2022. The Beacon Group, Inc. All Rights Reserved.