Getting Back To Nature On A Multigenerational Ranch Vacation
By Julie Hatfield

The scent hits you immediately upon reaching the grounds of the Kay El Bar Ranch in Wickenburg, Arizona (www.Kayelbar.com), and it's not the aroma of horses, even though those pretty creatures are everywhere.
Wafting over the property is the delicious smell of a combination of sage and eucalyptus. It's spring in the Sonoran desert and city dudes all, three generations of our family have come to spend first-grader Sam's school vacation week away from video games, television, computers and cell phones (the latter don't pick up out here anyway) to taste cowboy life in this 100+-year-old former cattle ranch. Despite the fact that we're only a little more than an hour west of the suburban sprawl of Phoenix, once you're on the property here, it feels as if you're back to 1926 when the place first opened up to guests. The buildings are adobe made by Indians and the beams of the living room are fashioned from the original telegraph poles that ran between the two towns. Everything, from the thumbtacks on the snapshot board to the door handles, has a horseshoe or cowboy theme, and nothing but the drinking cups in the bathrooms is plastic.
Kay El Bar is small - the ranch holds 28 people at the most - and feels like family. Photos on the wall and notes in the many guest books indicate that there have been many reunions and annual first-week or last-week get-togethers among repeat guests that have become old friends while riding and socializing here. Meals are served family-style, and we notice at one night's dinner that Teri Beattie, one of the owners, who travels back and forth regularly from her home in California, is as likely to bring your salad out and clear your dirty dinner plate as any of the kitchen staff or the wranglers, who also lend a hand at meals.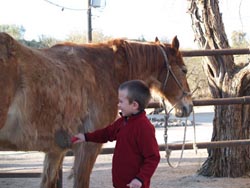 Although ranch rules dictate that a rider must be at least seven years old to go out on the trails, kids as young as three can ride. Sam is eager to meet his own horse, Eclipse, and take up a curry comb and brush to groom him, and then twice a day, hop on his back and ride around and around the corral and the perimeter of the ranch, always led by a wrangler, just to get used to being on what must seem a giant to a 50-pound boy. He has borrowed a cowboy hat and boots from the huge selection of already-broken-in equipment the ranch lends, and after each ride, he opens his hand flat, as the wrangler shows him, to give Eclipse a treat.
It is a gentle way to introduce a city boy to cowboy life. While I watch Sam on his ride, Sam's dad Chris goes out on the trail, and likewise, when Chris returns, I enjoy my own trail ride led by wrangler Shawna, into some of the 640 acres that are, in this early springtime, bursting with color. We see yellow poppies, feathery pink Fairy Duster, and so much yellow Brittle Bush that it looks as though a landscaper planted them along the trail for pretty definition.
Another remarkable factor of riding in the desert is the utter, mind-boggling silence. It seems to clear out the ears and settle the mind. How can there possibly be war, economic meltdown, drag racing or leaf blowers anywhere in the world with this peace in the desert?
We're in the middle of the country's Cactus Belt, and the ranch has its own cactus garden, which delights Sam; he learns the names of the Golden Barrel, the Teddy Bear Cholla, Monkey Tail, and Organ Pipe. One morning I wake to find him already hunkered down in the sunshine meditatively studying a cactus. "I like the saguaro," he tells me, fascinated at the holes that woodpeckers have made in this one for their nests.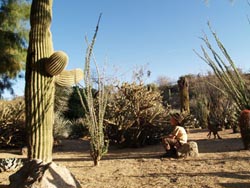 The wranglers seem to be as genuinely excited by their extraordinary natural surroundings as we are. One of them brings us to a beautiful cactus - the Echinopsis Spachiana - which sprouts a huge pink and white flower about once a year, for 24 hours only, and he tells us how lucky we are to have been here in this particular timeframe to see it. Sam reaches into its interior to find a few bugs, some of his favorite things.
On another day a wrangler comes running into the living room shouting "Sam! Come out to the corral and see what I just found!" It's a large Gila monster, an angry, lethal, lizard-like critter whose beautifully patterned back looks like a tiled Moroccan bathroom. Wrangler Robbie just wanted to show him off before he returns the endangered monster back to the desert. Sam is entranced.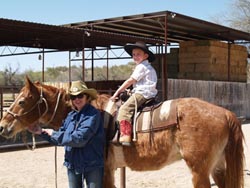 We're not the only three-generation family here. The Hack/Schroeder/McIntosh family - grandparents, parents, and 14-year-old twins have returned once again from their home in Oregon, to ride together. Horses are available for every level of rider, and this experienced family will gallop over the desert, while Chris and I will walk or trot, and Sam will meander. Another family arrives from England, with four sons, and after the requisite orientation session, they head out on the trail together.
After dinner, Sam joins the twins to choose from the enormous number of games in the living room (including "Horseopoly") On one clear night, the resident stargazing wrangler takes the ranch's telescope out to the road to show us a dazzling display of stars, including Saturn, easily seen without any other intruding lights of civilization.
Chris went mountain biking and running while here, and once he took Sam into town (population 2500) to see a gold mine, a cowboy museum, and a shop that sells our boy his very own ostrich and red leather boots. Most families, though, we noticed, had no desire to leave the ranch until their stay was over. There's a pool and a hot tub on the premises, all meals and cocktail nibbles are part of the package, and birds and quail flying and running around to watch when you're not on the back of your horse. Family groups can stay in their own separate casita if they wish but we bunked down right in the lodge so Sam could be closer to the games action before bedtime. He looks forward to returning when he can join us out on the trail, but assures us he'd come back here next year even if he were still too young to make the age cutoff.
Julie Hatfield is an award-winning travel writer who was fashion editor of The Boston Globe for 22 years and continues to write travel stories and a philanthropy column for The Globe. She lives in Duxbury, Massachusetts, with her husband, and is the mother of three, stepmother of two, and grandmother of two.
©Copyright 2003. The Beacon Group, Inc. All Rights Reserved.