Cruising To Costa Maya


By Nancy Schretter, Editor
Parents are always scouring cruise itineraries to decide which ports are best for their families. Most look for an enticing combination of crystal blue waters and alluring beaches, kid-friendly activities, adventure tours, historic sights, and good shopping. Costa Maya, Mexico has all these things. If Costa Maya isn't a familiar destination, you probably haven't spent a lot of time cruising the Western Caribbean. Believe me – this is one port you won't want to miss.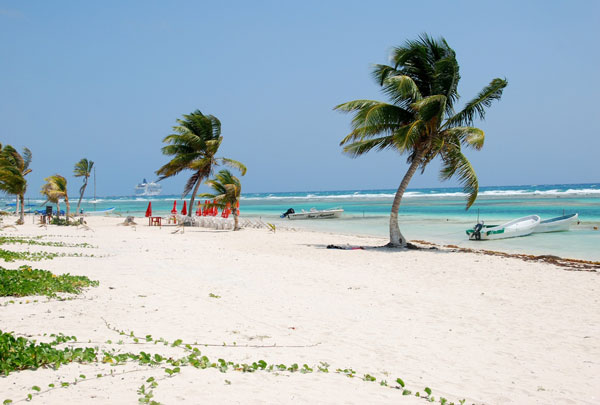 The beautiful region of Costa Maya is located about a four-hour drive south of Cancun, Mexico. Protected by the second largest coral reef in the world, the area is home to lovely white sand beaches and spectacular Mayan ruins. A large, privately owned cruise ship terminal opened here in 2001 and rapidly became one of the most active cruise ports in the Western Caribbean. In 2004, one million passengers arrived at the Costa Maya cruise terminal. That number quickly doubled to two million by March 2006. In 2007, Costa Maya was named Seatrade Insider's Port of the Year.
On August 21, 2007, powerful Hurricane Dean struck a Category 5 blow that completely destroyed the port, pier, and the nearby town of Mahahual. Frequent cruisers were devastated by the news of Costa Maya's destruction. The port had long been a favorite with cruise passengers, partially due to the variety of tours and the appeal of Mahahual's laid-back beach town vibe. Many wondered whether the port – and the little town – would ever return to prominence.
It took a little over a year for Costa Maya to rebuild. Today, the port facility is bustling with activity. The new longer pier, capable of docking even the largest cruise vessels, now can accommodate more ships than it did before Hurricane Dean struck. The beaches are even lovelier than ever and the Mayan ruins appear unchanged.
Costa Maya is perfect for today's economic times, as passengers can have fun ashore without ever leaving the port's terminal area. There's loads of duty-free shopping, a large pool with swim-up bars, restaurants, and even folkloric dance performances. The terminal area provides a clean, secure, and totally free day of entertainment for cruise passengers who don't want to venture far from their ship.
It would be a shame to remain in the terminal area all day, however, as Costa Maya area is one that's well worth exploring. For those looking for a laid-back beach day, the little town of Mahahual beckons. It costs just $5 per person to get to town ($3 to Mahahual and $2 back to the port) via a readily available bus/cab ticket combination. Just purchase your tickets at the port terminal exit and you and your fellow cruise passengers are quickly on your way. Golf carts are also available for rental.
Mahahual has been spruced up since Hurricane Dean's devastation, but it still retains the charm frequent cruisers have come to love. Stroll along the new oceanfront Malecon, relax under a palapa at one of the beach clubs, or dine at one of the area's many restaurants. With its cute Pez Quadro swing bar, restaurant, and prime beachfront location, La Posada De Los 40 Cañones is an attractive place to spend the day. Shady palapas, beach chairs, drinks, and lunch are all available here. Mahahual's seaside massages are very popular with cruise passengers, both for the relaxing experience and the price. Rates are negotiable, but generally run in the range of $20-$40 for a 1-hour massage and $10-$20 for 30 minutes.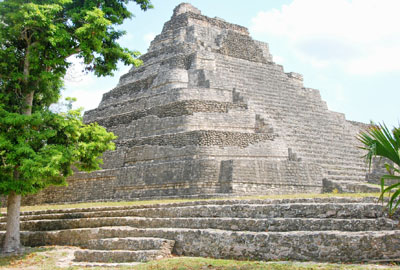 For those looking for a cultural experience or a little more action, Costa Maya offers plenty of exciting shore excursions. One of the most popular is a 4-hour tour to visit the Chacchoben Mayan Ruins. During the 1 hour and 15 minute drive to the ruins, a knowledgeable guide provides a wide variety of information on Mayan history and culture. Once at the site, participants have the opportunity to explore the main temple, climb the stairs leading to the first plateau, and view the recently excavated ruins. Our guide, Araceli Zarate, made Chacchoben come alive with her outstanding narrative presentation.

Another excellent tour for those interested in learning about the Mayan culture is the Mayan Cultural Encounter. This excursion begins in a small, contemporary Mayan community. The tour then moves to a traditional local Mayan family's home, set among acres of fruit trees. After being warmly welcomed by the head of the family, participants are guided through a Mayan house where they can relax on hammocks and watch cooking demonstrations including tortillas being made by hand. Guests then have the chance to learn about local foods, ancient medicines, the sacred Mayan tree, and the legends and lore associated with the Mayan calendar. Afterwards, relax under shady fruit trees and enjoy a delicious authentic Mayan lunch made by members of the host family. Don't miss the homemade fruit juice – it's delicious!
For those who prefer sun and beach fun, popular tours include the Jungle Beach Break and a Dune Buggy Safari & Beach excursion. The Jungle Beach Break takes cruisers to lovely Uvero Beach, where they can relax on the white sands, get drinks from the open bar, and enjoy a game of volleyball. Jet-ski rentals and a Mexican buffet-style lunch are also available. On the ATV tour, guests ride caravan style along dirt roads on their way to the beach where they can relax and enjoy a swim and a snack.
One of the area's newest tours is the BioMaya Bacalar zip-line over the breathtakingly beautiful Laguna Bacalar, the second largest freshwater lake in Mexico. BioMaya Bacalar's platforms are built on iron towers ranging up to 110 feet in height. This zip-line tour is currently the only one in the world that allows tandem side-by-side gliding and the longest zipline is over 2,600 feet in length. This tour can be booked through the Internet if it's not available through your cruise line.
Those wishing to give back while in port should contact the Uai Nat Ze Foundation, a non-profit organization that has been serving the Yucatan Peninsula of Mexico since Hurricane Dean devastated the Costa Maya region. The Foundation supports community outreach programs and youth initiatives to assist those in need. If you're interested in volunteering in Costa Maya, contact the Uai Nat Ze Foundation for help and ideas.
Costa Maya is one of the most enchanting ports in the Western Caribbean, so make sure it's included on your family's next cruise itinerary. For more information, visit www.costamaya-mexico.com.
Copyright 2022 . The Beacon Group, Inc. All Rights Reserved.