Long Bay Beach Resort: Island Hopping on a Moderate Budget
Sailing to multiple islands on a Caribbean vacation sounds like something for the yacht club crowd, but it's not hard to do it on a romantic Virgin Islands vacation. It's all about picking the right spot for your adults-only getaway. If you're into romance, with a side of adventurous exploration, Long Bay Beach Resort & Villas on the lush island of Tortola is just the place to go.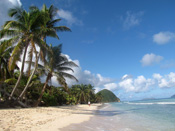 Located on a 52-acre hillside estate on the western end of the island, Long Bay Beach Resort fronts one of the British Virgin Islands' most spectacular beaches. This stunning mile-long stretch of silky white sand is a picture-perfect place for couples to relax and spend time together. Accommodations here range from oceanview and beachfront rooms to luxurious hillside estate homes and villas - most with gorgeous views of the sea and neighboring islands. For those looking for a bit more activity, the resort offers tennis courts, a large hillside swimming pool, well-equipped fitness center, a scuba diving outlet, tour and rental car companies, and a complete spa with a wealth of packages and treatments. The beachfront 1748 Restaurant, located on the ground floor of a renovated 18th century sugar mill, is a romantic spot for a candlelight dinner.
It's easy to spend all your vacation time enjoying the resort, but Long Bay is also ideal to use as a home base for exploring Tortola and the surrounding islands. We used our rental SUV to explore Tortola's many beaches, including Smuggler's Cove and Cane Garden Bay Beach. The crescent-shaped white sandy beach at Smuggler's Cove is gorgeous and swimming here is marvelous as well. The road from Long Bay to Smuggler's Cove can be treacherous, but inexpensive taxi service is available as well. Nearby dining options, including the upscale Sugar Mill Restaurant and the more casual Jolly Roger Inn, are good choices for nights out. Shopaholics will enjoy browsing the many shops and boutiques in Road Town and at the Sopers Hole Marina.
Private ferry services make island hopping easy from Long Bay Resort. Several ferry companies provide inexpensive daily transportation between Tortola's West End and the U.S. Virgin Islands, including St. Thomas and St. John. Regular service is also available from Tortola to other British Virgin Islands such as Virgin Gorda (home of The Baths – a popular snorkeling destination,) Jost Van Dyke and Anegada, one of the most unspoiled islands in the Caribbean.
On one of our vacation days, my husband and I took the early morning New Horizon ferry from the West End to Jost Van Dyke's Great Harbour, a favorite with yachties. A quick taxi ride brought us to spectacular White Bay Beach, home of the tiny Sandcastle resort and its well-known Soggy Dollar Bar. Aptly decorated with dollar bills (some formerly soggy) brought in by sailors who swam ashore, this bar birthplace of the BVI's most famous drink – the Painkiller.
White Bay's laid back little slice of paradise looks like something straight out of a Jimmy Buffet song. Free beach chairs and hammocks are available for those who want to relax on the beach with a drink, and perhaps have a bite for lunch. The long pristine stretch of sand and excellent snorkeling make this a popular spot with boaters and the anchorage filled up quickly while we were there. Lazing the day away on a beach with a tropical drink in hand is definitely what we had in mind on a vacation without the kids. No worries, no problems.
Of course, a trip to Jost Van Dyke wouldn't be complete without a visit to world famous Foxy's Bar & Restaurant – a legend throughout the Caribbean. Shaded by palm trees, this quintessential tropical beach bar is made from old driftwood and decorated with personal items brought be visitors, including license plates, business cards, t-shirts and the like. While Foxy's is "the place to be" for New Year's Eve in the BVI, it's a great place to visit every day of the year. We stopped by for a drink and some ribs and were lucky enough to meet Foxy Callwood himself, who serenaded us with a humorous calypso song about our hometown (which he knew well!) and autographed my t-shirt... a perfect souvenir of our adults-only getaway.
Romance In The Virgins - On Any Budget
$$$ Peter Island Resort & Spa: An Oasis of Luxury and Romance
©Copyright 2011. The Beacon Group, Inc. All Rights Reserved.