Great Family Vacations Happen At Lost Valley Ranch
By Nancy Schretter, Editor

There are a few very special family vacations that I can't get out of my head. This summer's trip to Colorado's Lost Valley Ranch is one of them. We had an incredible time riding and hiking together, but the experience was far more than I had ever imagined. A ranch vacation is about so much more than the place - it's the feeling you get when you're there.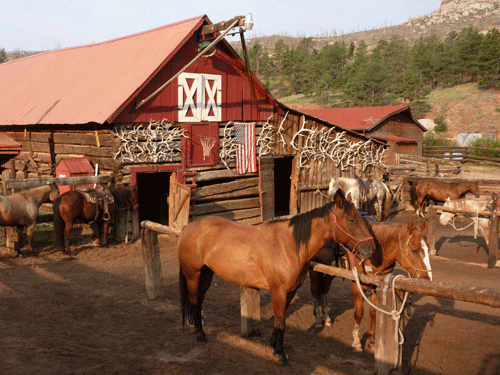 What is a dude ranch vacation? Sure, there are tons of horseback riding options. The riding instruction for all ages at Lost Valley Ranch is exceptional. In addition, there's an extensive array of things that families can do - hiking, swimming, fishing, tubing, tennis, trapshooting, crafts, cattle round-ups, white water rafting and much, much more.

The activities check-list at ranches is impressive, but it's not what keeps families coming back for more. It's all about the experiences, connections and memories that they make while they're there. Families become their best selves on a ranch vacation, perhaps due to a special alchemy of spectacular scenery, lack of interfering outside pressures, and the loving attentiveness of the ranch's team members. Parents, grandparents and children renew their bonds with each other and make close friends with the staff and other guests. What started out as individual families quickly melds into one big interconnected multigenerational group playing and caring for each other.

Tony Warnock, President of Lost Valley Ranch, says it well. "For families, one of the most important aspects of visiting a ranch is the opportunity to escape from the pressures and schedules of daily life," says Warnock. "Dude and guest ranches provide the solace needed for families of all ages to reconnect by slowing down and breathing in the beauty of the great outdoors. There is something for everyone, regardless of age and the shared experiences between generations create memories that last a lifetime."

In a short week's time, Lost Valley Ranch became our second home. We left our mark (quite literally) at Lost Valley and the ranch's vibe crept into our souls. It's definitely a transformative experience. Give the ranch a week and you'll have a second family for a lifetime. You just may find a lost piece of yourselves as well.

At Home on the Range

Located about two hours from Denver and Colorado Springs, Lost Valley Ranch is a world apart. After all, it's not called "Lost Valley" for nothing. The last nine miles of the journey stretch along a winding dirt road. You'll drop your cares behind you as you go.

Some of my best memories took place on that dirt road and along the ranch's mountain trails. It's where we went riding and hiking on some afternoons, checking out the wildflowers and the awesome mountain vistas. That's also where we stood with our arms around each other at four in the morning, watching millions of stars sprinkled across the night sky twinkling like white marbles on a black velvet blanket. That dirt road is where we yelled "Oooo-aaah!" as we crossed the Lost Valley Ranch cattle guard. Weirdly enough, we still yell that to each other on the phone sometimes. It's funny how one sound can trigger so many memories.

Guests certainly live the sweet life at AAA Four-Diamond Lost Valley Ranch. The ranch's all-inclusive family vacations include accommodations, three bountiful daily meals, and all major activities including superb horseback riding instruction and twice daily rides, guided hikes, kids and teens programs, tennis, and much more. A few activities like fly fishing instruction, whitewater rafting and trap shooting cost a bit extra. For more information about the benefits of an all-inclusive vacation at Lost Valley Ranch, check out this related story on all-inclusive ranch vacations on the Family Travel Network.

Lost Valley is a great place for both individual family escapes and multigenerational family reunions. Families stay in comfy one, two and three-bedroom cabin suites scattered across the ranch's wooded grounds. Each cozy cabin is fitted with a living room, refrigerator, king or queen beds, and lots of fluffy towels. Most have a porch swing to take in the spectacular views. Big stone fireplaces are perfect for making evening fires and wood is delivered daily.

When it comes to food, there's no way anyone will go away hungry at Lost Valley Ranch. Once the dinner bell rings for meals, guests can be found chatting with one another at big tables and enjoying lots of delicious home-cooked fare. Food allergies and special dietary needs are easily accommodated at Lost Valley. Guests also love the ranch's special events throughout the week, including breakfast rides, cookouts, grill-your-own steak dinners, hayrides to a dinner out by the Ute Territory Jail, and lots more.

Lost Valley Ranch's horseback riding program is outstanding, earning rave reviews from guests at all levels of riding ability. The kids and teens programs here are equally superb. Daily all-inclusive children's programs are offered for kids ages 3-5 and 6-12 year-olds, while teens have their own activity-rich program designed just for them. Riding instruction is included at all age levels and the staff for these programs is superb. One-on-one babysitting for little tykes ages 2 and under is also offered at for a small hourly fee.

True Western Hospitality

While all the activities and amenities are exceptional, the staff at Lost Valley Ranch set it apart from any other vacation I've experienced. These people are genuine and truly care about their guests. As Director of Reservations Caroline Guth says, "The reason that our guests choose to return year after year has a direct correlation to our staff and the relationships that they have built over the years. The quality of our staff and the service that they give is incomparable to anything that they have experienced." She's right. Guests of every age - from children to grandparents - raved about the staff and couldn't say enough about them. That goes for every member of the Lost Valley team, although kids and teens program staff and the wranglers won particularly high praise. So did Tony Warnock and Caroline Guth, dubbed by one long-time guest as the "heartbeat of the ranch."

Making lifetime family memories is the central theme of Lost Valley Ranch, and they succeed in unparalleled fashion. Everyone vacationing at Lost Valley Ranch leaves their mark on the property in a truly memorable way. It's a long-standing ranch tradition that every family creates their own personalized brand, which is literally seared into the walls of the lodge's dining room by the ranch's helpful wranglers. Repeat guests get a check mark next to their brand. As one guest said, it's a tangible way to show that "we are officially a part of the community - and it's ours. We belong of the Lost Valley family now." Branding is done on the last day of the vacation and it's an emotional experience. Lots of tears are shed thinking about all the great memories that have been made - and because this year's peak family experience is coming to an end.

After a week at Lost Valley Ranch, many guests report that they were forever changed. Their family ties were strengthened, as were their bonds to nature and the land. If this sounds like a love letter to ranch vacations and Lost Valley Ranch - it is. After a week at Lost Valley Ranch, our family has become part of their family.

Oooo-ahhhh!
If You Go:
For more information about Lost Valley Ranch, visit their website at http://www.lostvalleyranch.com or call 303-647-2311. To learn more about the Lost Valley Ranch experience and its all-inclusive benefits, check out this companion article on the Family Travel Network on all-inclusive ranch vacations.



It's important to pick the right ranch for your family. The Dude Ranchers' Association, of which Lost Valley Ranch is a member, represents over 100 of the best dude ranches and guest ranches in the western United States and Canada. Members must pass a two year inspection and approval process. Learn more and find a list of member ranches at http://www.duderanch.org. The Dude Ranchers' Association can also help you to decide what types of ranches might work best for your family.



Lost Valley Ranch is also part of the Spur Alliance, a group of 10 top dude ranches in North America. Every member ranch is family owned and operated and has served guests continually for a minimum of 20 years. The Spur Alliance includes a variety of different ranches and is committed to matching families with the ranch best suited for them. For more information, visit http://www.bestduderanches.com.



Gene Kilgore's Ranch Vacations book is a great guide for learning more about dude ranches, guest ranches, and working cattle ranches. Purchase it online or at your favorite bookstore, or visit Kilgore's RanchWeb site for more information at http://www.ranchweb.com.



Cowboy boots, riding jeans and cowboy hats are definitely part of the ranch experience and are highly recommended. Lost Valley Ranch has a small store that stocks these. Families looking for a wide selection of western wear can stop off at Denver area stores like Sheplers and the Rocky Mountain Clothing Company on their way to the ranch. Bring along at least three pairs of jeans, plan to dress in layers, and pack a rain slicker just in case.



Talk with Lost Valley Ranch about the best weeks to come with your family, particularly with regard to the ages of your children and the weather. Caroline Guth, Lost Valley's Director of Reservations, is always happy to help. While some ranches will accept bookings of less than a week, particularly during their off season months, plan to spend a full seven nights on your ranch holiday. It takes a full week to truly relax and reap the full benefits families can get from this type of vacation. It takes that long to truly relax, unwind, reconnect, and not feel like you have to be doing everything. It's hard to explain. Believe me, I didn't understand either, but when you go - you'll know.


©Copyright 2013. The Beacon Group, Inc. All Rights Reserved.