Estate Concordia: Many Stars, Few Dollars
Estate Concordia is located on the less developed southeastern corner of St. John, in the U.S. Virgin Islands. This eco-friendly resort preserve (a sister property to Maho Bay Camps) is perched on a hillside with million-dollar views of the Atlantic Ocean and the Caribbean Sea, the British Virgin Islands, and the setting sun. The good news: you're not paying $600 per night for the privilege of staying on an unspoiled Caribbean island made up mostly of protected national parks.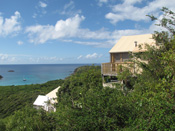 Estate Concordia offers cozy eco-tent cottages and one bedroom studios scattered across fifty acres for couples and a few small families who truly want to get away from it all. The eco-tents are a bit like large tree houses cantilevered off the side of the hill; while the new eco-studios are some of the nicest I've seen. Off-season eco-tent rates are a little over $100 per night and about 50% more during the prime season.
There were no kids anywhere when my husband and I checked into Estate Concordia. In fact, since it was off-season, there were very few people at all. A complete sense of peace and tranquility reigns here, perhaps because cell phones are severely limited and audio/video devices can only be used with headphones. We hauled our luggage up to our eco-tent cottage overlooking the sea and then headed down to the Concordia Cafe for a dinner.
Being at Estate Concordia is a bit like high-end camping, and it isn't for everyone. There's no air conditioning in the eco-tents. Most guests lug their suitcases up over a hundred steps from the parking lot. Five wheelchair access eco-tents and easier access units are also available for those who need them. Individual bathrooms with solar-powered showers and low-flush toilets are located in a separate enclosure connected to each eco-tent, although the new studios have en suite bathrooms and full kitchens. Screens let in the sea breezes ... and an occasional bug or two. Flashlights are needed at night when the property goes dark and a car is highly recommended - if not necessary.
Even with all that, however, there's a special kind of closeness that develops between couples at Estate Concordia. It certainly did for us. We're not "camping" people, so the experience of seeing so many stars was completely new to us. When the lights go out at Concordia, the stars are amazing. It's romantic to have the Milky Way and the full moon as your night lights, especially with no one around. We were lucky enough to have clear nights and spent many of them out under the stars. When you're ready to nod off, the rhythmic sound of the waves and the peeping of tree frogs will lull you to sleep. What started out as an adventure quickly turned into a chance to get off the grid, be surrounded by nature, reconnect with each other, and have fun.
We spent our days in bathing suits and t-shirts, driving about the island enjoying its 39 spectacular beaches and state parks. Hawksnest Beach is one of the most beautiful beaches on St. John, and a favorite with locals. We found a perfect spot on its white sands to relax and spend the day. It's best to bring your own beach towels, although Concordia does rent beach chairs for those who prefer them.
When we weren't lounging on the beach or wandering about the island, we went prospecting for food. Each eco-tent has a small kitchen with a battery-operated refrigerator and a two-propane burner stove, but we weren't in the mood to cook. The Concordia Cafe on property serves delicious breakfasts and dinners, although it's only open on selected days in the off-season. You won't go hungry here, though. The nearby Donkey Diner offers up delectable breakfasts, including the best blueberry ricotta pancakes I've ever had. Shipwreck Landing and Skinny Legs are also great spots for lunch or dinner.
Romantic couples will relish the privacy that Estate Concordia offers. For time-compressed, stressed out parents, peace and quiet is a luxury. That's something you'll find here in spades.
$$ Long Bay Beach Resort: Island Hopping on a Moderate Budget
$$$ Peter Island Resort & Spa: An Oasis of Luxury and Romance
ęCopyright 2011. The Beacon Group, Inc. All Rights Reserved.